Diabetes and Endocrine Care News
Humans were created with the need to have human touch, companionship, and be a part of a community. Mothers hold their infant on their chest when they are born to promote bonding. We have a legitimate need to belong. Children long for their parents, adolescents seek...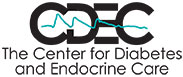 "Servicing Miami-Dade, Broward, and Palm Beach Counties Since 1974"
The Center for
Diabetes & Endocrine Care,
Jellinger & Lerman, MD, PA